Chinese Space Probe Chang'e 5 hopes to bring back rock from the moon!
What Happened so far
23 November 2020 at 20.30 UTC:
Chinese Space probe Chang'e 5 was launched using Long March 5 Rocket (Long March 5 is a Chinese heavy-lift launch vehicle) from a Chinese satellite launch center in Hainan Island. The Chang'e 5 is made of 4 separate modules, The service module, Lunar Lander, Lunar ascender and a Sample return vehicle.
28th of November at 12.58 UTC:
Chang'e 5 achieved lunar orbit at an altitude of 400km from the lunar surface.
30 November:
Landing probes separated from the orbiter.
1 December 2020 at 15.11 UTC:
The lander and ascending vehicle landed near Mons Rümker in Oceanus Procellarum (Ocean of Storms) Lander collected about 2kg of lunar materials from a depth of 2m from the lunar surface. And loaded them into the ascender.
3 December 2020 15:10 UTC
Ascender lifted off from the lunar surface
3 December 2020 15:16 UTC:
the ascender achieved lunar orbit.
The ascender is currently in lunar orbit and will automatically dock with the Chang'e 5 lunar orbiter on 5th Saturday 2020. And the obiter will return to earth and deliver the reentry module which is scheduled to land in the Inner Mongolia region of China.
If all this goes well, China will be the first nation to bring back lunar samples after 1976 (44 years).
This will make China the 3rd nation to bring back lunar samples. USA brought back Lunar samples with Manned Apollo missions and Soviet Union brought back Lunar samples with robotic probes. These samples have made a huge impact in understanding the origins of the Moon, Earth, and the evolution of the Solar system. The samples to be brought back by Chang'e 5 will also help scientist understand the evolution of the solar system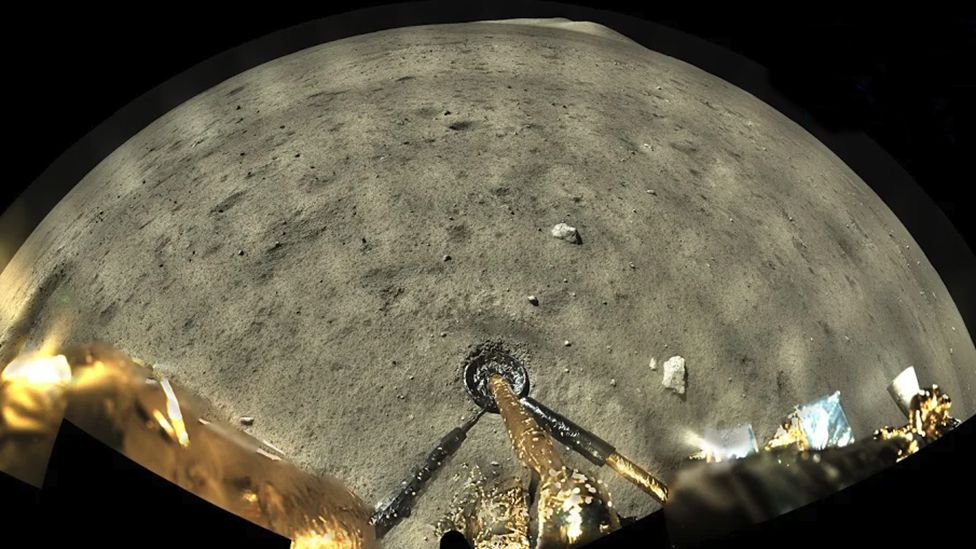 Chang'e 5 Lander captured this wideangle image of the moon. it shows the surface of the moon, from its legs to the lunar horizon.
Image: CNSA/CLEP